Moderators: cumheels, Mrs.HB, Heelexploder, german bootlover, heelbone, HighHeelFetish.org, Richie, Jess, minni, redwedge, MissN, Richie, Jess, minni, redwedge, cumheels, Mrs.HB, Heelexploder, german bootlover, heelbone, HighHeelFetish.org, MissN, Heelexploder, german bootlover, heelbone, HighHeelFetish.org, Richie, Jess, minni, redwedge, cumheels, Mrs.HB, MissN, redwedge, cumheels, Mrs.HB, Heelexploder, german bootlover, heelbone, HighHeelFetish.org, Richie, Jess, minni, MissN, Jess, minni, redwedge, cumheels, Mrs.HB, Heelexploder, german bootlover, heelbone, HighHeelFetish.org, Richie, MissN
Posts: 328
Joined: Fri Jul 23, 2010 9:19 am
Stand While We Kick YOU!
(Original re-edited to correct auto-sync problem)
Size: 666 mb:
https://rapidgator.net/file/2b4c5637b14 ... 0.rar.html
Posts: 328
Joined: Fri Jul 23, 2010 9:19 am
Ball Kicking the New Pig[/color]
The guy doesn't stand a chance. The girls make sure his legs are tied wide open. Just when he thinks the kick will come from the front, one of these devilish beauties deliver an unexpected hard kick to his balls from behind. When he squirms to get out of the path of one kick, another girl delivers an unexpected hard kick to his balls from the side. Eventually it becomes a free-for-all with multiple kicks constantly to his balls coming from all four as the girls laugh as the team up against him!

Includes GIFs & Images
Total file size 511 MB:
https://rapidgator.net/file/6496c95fad5 ... g.rar.html
Last edited by
Rodger_Dodger
on Tue Jun 07, 2022 1:50 pm, edited 2 times in total.
Posts: 328
Joined: Fri Jul 23, 2010 9:19 am
Amadahy & Cali - Enthusiastic Cali Learns to Ballbust
Beautiful Cali is clearly enthusiastic and overjoyed when sexy seasoned ballbuster Amadahy teachers her how to kick naked men in their balls so hard they drop to the floor. After her first experience in this video, Cali is addicted to it, and she then brings us great joy watching her eagerly participate in more and more ballbusting videos. Go Cali - you're wonderful!!

(Original video re-edited to correct audio sync issue)
Size - 693 mb; includes several GIFs for reposting:
https://rapidgator.net/file/a85ec693d0d ... ).rar.html
And finally, with one powerful kick, Amadahy takes him out once and for all...down he goes, and she struts proudly (and she deserves it!)
Posts: 328
Joined: Fri Jul 23, 2010 9:19 am
Amadahy Using Different Spiked Boots
Some of us wonder if these paid models truly enjoy what they do, or, is it just for the money. This is a RARE video in that Amadahy proves to us just how much she loves her brutal sadism on these naked men's balls.
The spikes on her first pair of whites boots are lethal enough, and result in a bloody mess, which she proudly shows the camera. But for Amadahy, it's just not vicious enough. So she puts on a second pair of red boots with much longer and sharper spikes. And do you think she lets up on him given how much more lethal they are? HELL NO!
During her pummeling his balls with the red boots, she stops and rubs her crotch. She then spreads her legs and lets the camera get a close up shot of how wet it is. And THIS is the evidence how much she enjoys it. Her busting his balls in such a brutal way has MADE HER PUSSY DRIPPING WET! She definitely is NOT faking her enthusiasm as her own body tells us how she truly feels about ballbusting in such a brutal way. It proves to us that even if she wasn't paid, she'd still love kicking us naked men in our balls - it's one of her favorite and most erotic activity. And THAT'S why she was the queen of ballbusting! :ibow4u:
Total File Size (includes numerous GIFs and Images) - 266 MB:
https://rapidgator.net/file/37390c54d5a ... s.rar.html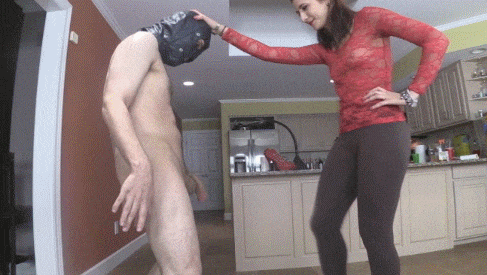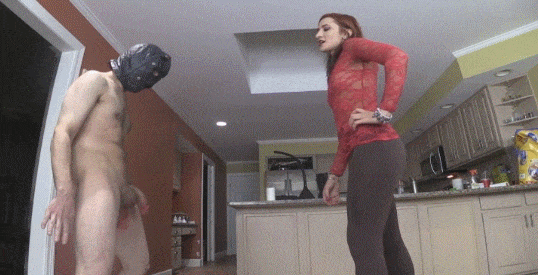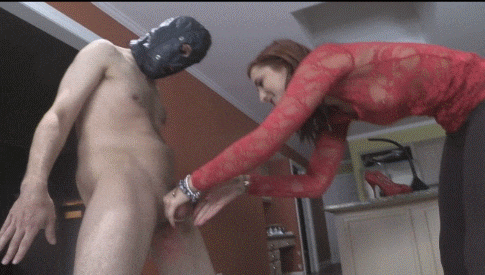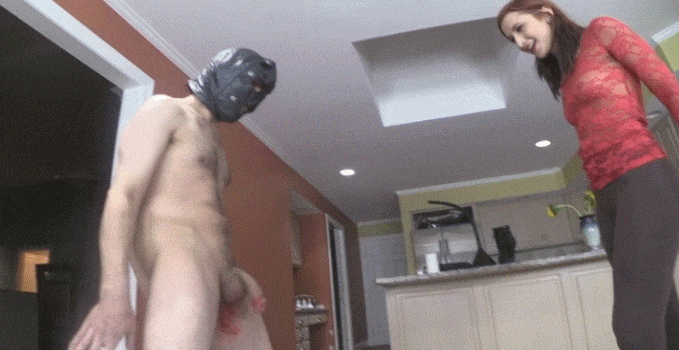 Posts: 328
Joined: Fri Jul 23, 2010 9:19 am
Jennifer & Mia Ballbust Naked Jack-Off Piggy
These two pretty ballbusting vixens have a particularly fun time when they demand that their naked pig-boy must jack his dick off as they bust his balls. As they do, they make fun of he wanks off and mock him about being such a fool, and of course, as usual they're right! If that wasn't enough, they have him oink like a pig when they kick further proving what a buffoon he is, and they laugh and laugh at him - it's clearly NOT an act! They quickly learn that how he normally masturbates is not conducive to proper ballbusting because as his hand slides back and forth on his erect penis shaft it prevents them from seeing his balls. So Jennifer tells him they for them to be able to see his entire balls, him must spread his legs and jerk his dick straight upward while thrusting his pelvis forward. He wisely obeys by presenting Jennifer an unobstructed very clear view of his entire balls, which see then is able to target landing a VERY hard blow directly into his balls. The girls laugh and laugh at his pain - She is SO clever, and he is SUCH a dunce!

They continue to have him jack off and the girls know that he is fantasizing about how much he would love to have one of these wonderful beautiful girls, but everyone knows they are far superior and WAY out of his league. But as a consolation, he can at least take pleasure in knowing that his agony and total humiliation is bringing them joy and providing them with a lot of fun and laughter - something we all know they deserve!
File: 510 MB (1080 HD):
https://rapidgator.net/file/2845bb04106 ... ).wmv.html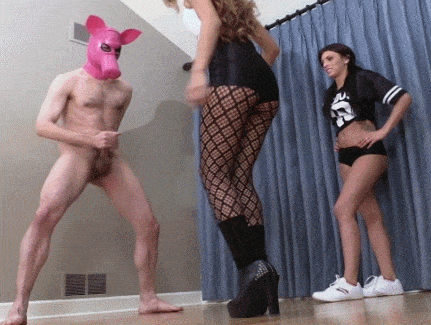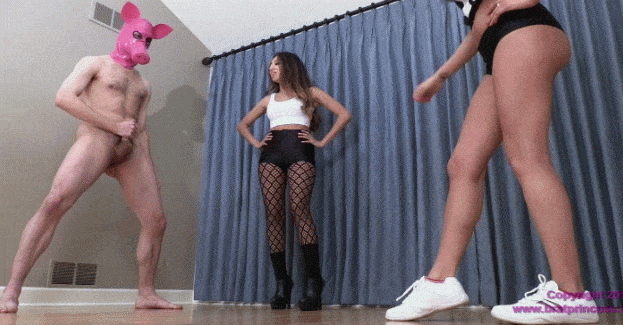 Posts: 328
Joined: Fri Jul 23, 2010 9:19 am
Amadahy - You Broke My Boot With Your Balls!
Filmed and produced by an all-female group, Amadahy is constantly encourage by their off-screen laughter and cheers. In this video, after repeated kicking and punching the balls of her naked fool, she is so energized that upon one of her extr€mely hard kicks into his balls, her boot literally comes apart! But neither that nor the screams and spasmatic flailing about of her slave idiot slows this beautiful vixen down one bit. Instead, she just ups her game and kicks him even harder! :lol
(Original video re-edited to correct audio sync issue)
Size - 537 mb; includes several GIFs for reposting:
https://rapidgator.net/file/6ac53da1e69 ... ).rar.html
Posts: 328
Joined: Fri Jul 23, 2010 9:19 am
She Gets to Kick the Sperm Out of His Balls!
The little piggy has been a good boy, so Amadahy and Noe give him a special treat - he's allowed to cum by fucking their lower legs. The girls take turns letting him fuck the legs while the other watches from the front his erect penis thrust back and forth. They laugh at what a fool he is, and Noe says "
It's sad, because that is the closest he will ever come to having girls like us."
And of course, she's absolutely right, and Amadahy reminds pig boy how lucky he is to be allowed to let these two beautiful ladies watch him ejaculate.
The girls laugh at they watch the head of his hard dick squirt its sperm. But now it's time for Amadahy to have some fun. She has reminded pig boy that not only does she own his balls, but also all the sperm in them. And again, he has to acknowledge she is right! So Amadahy has him stand, and as he is standing stark naked in front of the two ladies, they see his dick is dripping cum. Amadahy points at it and the two laugh at pig boy's humiliation.
But Amadahy wants ALL of his sperm out, she she begins to kick him in his balls. As she does, his dick flopping about slings out the remainder of its white goo, and both Amadahy and Noe watches it each time pointing at it and laughing about it. She finishes him off with an extremely hard kick into his balls making him drop to the floor. Amadahy points to the sperm that had come out on that final kick, no doubt getting the last bit of it.
During the session, pig boy got sperm on her shoes, so Amadahy makes the pig lick his sperm off, and he dutifully obeys her leaving them as clean as before he started ejaculating.
The poor pig-fool ends up humiliated and with a pair aching balls, but that's perfectly appropriate as what's important is that these two sexy girls really had a fun time, and they laugh and laugh.

(Original video re-edited for better quality)
Size - 661 MB; includes several GIFs for reposting:
https://rapidgator.net/file/d153488c78a ... n.rar.html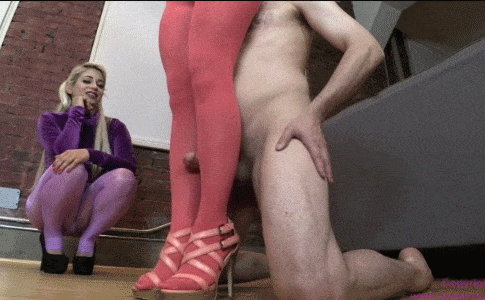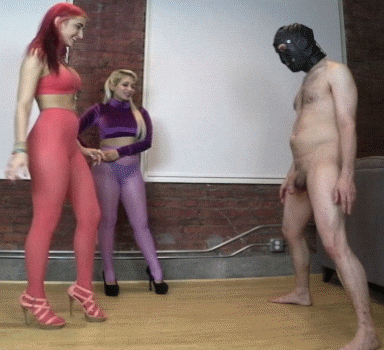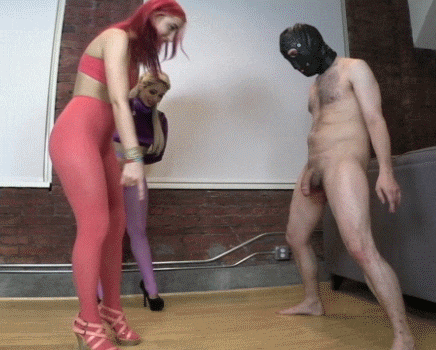 Posts: 328
Joined: Fri Jul 23, 2010 9:19 am
Chloe & Sasha - Small Penis Earns Him a brut@l Ballbusting
This video evidences how these beautiful, cruel girls love to emasculate a man while bringing brut@l pain to his manhood. And they succeed in his thorough humiliation.
Being required to present himself naked to the beautiful Sasha and Chloe, this fool's tiny penis and little balls become the focus of not only the two girls, but also the girl filming the scene. From the start, everyone watching can see the pig truly does have a very small dick and little balls, and the girls are quick to take notice. The girls are disgusted not only by his small genitals, but his slovenly fat appearance, and, the fact that he's not quick to obey their instructions prompting them to call him "stupid" constantly. The girls note how pathetic he is, and that he'll never have a girlfriend because of it - so not only should he be honored that they are spending time with him, but he should willingly let them do whatever they want to him to so that they can let their real attitude about him become a reality.
They start by making all kinds of jokes about his little dick and tiny balls, and the girls laugh hilariously at them - including the girl filming! :lol Sasha then tells Chloe they were kick him in his balls so hard he'll never be able to have <s>c h i l d</s>ren, which of course, is a moot point because he'll never be with a girl anyway!
They draw the strings tight on his hood covering his face so he can't see the kicks coming. His muffled noise has them calling him Kenny (South Park), and the new joke becomes their attempts to "kill Kenny!" by kicking him as hard as they can in his little balls. As he is writhing in pain on all fours on the ground, Sasha leans over him and says
"Awwww Kenny, is poor little Kenny hurt? Is Kenny going to throw up?",
again bringing much hilarity to the girls. But they won't tolerate him being down in agony as they demand he stand up - because the only value he has for them is for their being able to kick him again hard in those balls. He obeys only to get kicked again and again, all to their delight and fun at his expense. At one point as Chloe and Sasha look at his penis up close, Chloe notes how it's like a Tic Tac in size and when she says his new name will be "Tic Tac", everyone bursts into laughter. From that point forward, that is how they always refer to him.
(Original video re-edited to correct audio sync issue)
Size - 1.1 Gb; includes a number of GIFs from great scenes for reposting:
https://rapidgator.net/file/f8c361cdbbd ... ).rar.html
Posts: 328
Joined: Fri Jul 23, 2010 9:19 am
Beautiful Babes Bust Boner Boy's Balls
Gorgeous Harley and Nikkole have a real fun time with there short little naked fool. Harley is a beautiful dancer and almost 6 feet tall making her a much desired "Glamazon". Pretty Nikkole also towers over shorty. The ladies know that they are WAY out of the league for such a short little idiot, and he would NEVER have a chance with such gorgeous ladies. So the have him jerk his dick off as he can only fantasize about such beauties.
Harley, who is new to ballbusting in this feature, likes him jacking off as she ballbusts him. It's her way of getting even with the kind of jerks that give her problems while she dancers. Like the jerk-offs she deals with, his jacking off demonstrates to her and Nikkole what guys need to do after being around these goddesses. And as he does, Harley kicks him in his balls as hard as she can, each time bringing her a cathartic release of anger while she laughs hysterical at the joy of doing it. At one point as she holds his neck leash from behind, she plays a clever mean trick on him delivering an unexpected extremely hard kick to his balls from behind. As he drops to the floor in agony, Harley is elated about what her mean trick did to him, and the girls laugh hysterically as he lays on the ground holding his balls. This is the video session that gets Harley addicted to kicking naked men in their balls - she absolutely LOVES it!

Nikkole also enjoys kicking the slave hard in his balls as he stands there continuing to jack off. At one point, she repeats Harley's mean trick and also kicks naked jack-off boy in his balls from behind. He drops again, and the girls laugh and laugh about it.
Size - 1.2 Gb; includes a number of GIFs from great scenes for reposting:
https://rapidgator.net/file/18dba86bb17 ... s.rar.html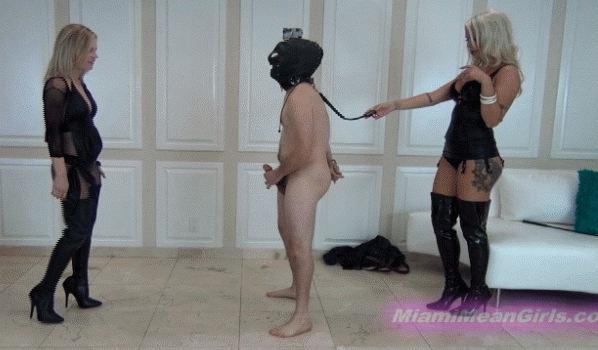 Posts: 328
Joined: Fri Jul 23, 2010 9:19 am
Popular Girls Punish Punter
Amber, Draya and Platinum are the most popular and beautiful cheerleaders on the field. So when they find out their slave was looking at other cheerleaders, they get angry at him. Standing in front of them Draya demands of him
"Strip down naked!!"
. He wisely obeys, and while kneeling in front of them, the girls can clearly see what a small penis he has...and it is not stage acting, he really DOES have a small penis! Draya laughs at it and jokes that his
"dick is almost nonexistent!"
. She is right of course, and the other girls laugh also as they look at his small penis correctly ridiculing him about what a loser he is.
To prove to him that he must respect them and that they have the strongest legs and kicks, they must teach him a lesson! They demand that he kneel and two concrete blocks set so far apart his legs are widely spread for so that his balls are easy targets to kick. They laugh that his dick is so small that at least they know his balls will be able to bring him great pain. They then take turns kicking him HARD in his balls from both the front and the back. For fun and so that he won't know when it's coming, one of the girls keeps pulling his head back while covering his eyes as another delivers a hard kick to his balls. When he grimaces in excruciating pain and flails about in agony, the girls laugh and laugh at the loser. They keep reminding him of how much he deserves it, and relish in the fact that their beauty and popularity also means THEY deserve having so much sadistic fun with his balls.

Size: 1.0 Gb:
https://rapidgator.net/file/5f70b92cdcf ... r.rar.html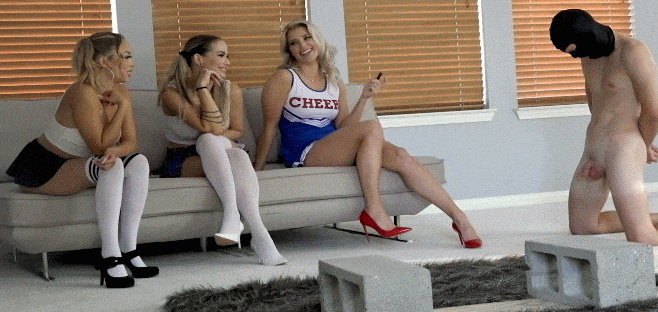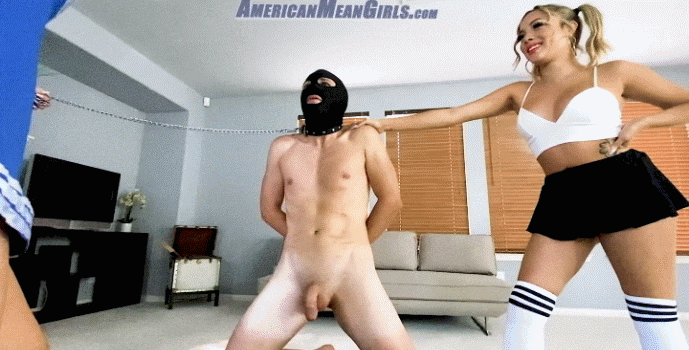 Users browsing this forum: No registered users and 9 guests