Moderators: Only Pumps, sh03s, cumheels, Mrs.HB, Heelexploder, german bootlover, heelbone, HighHeelFetish.org, Richie, Jess, minni
Posts: 479
Joined: Sun Jan 27, 2013 12:26 am
Location: Vegas
I was 18. I was "curious" about high heels, as i had two sisters growing up. The pumps never really made me hot until i was 18. A sister had a enormous box of yard sale stuff in our back yard. When she wanted to have a sale, she would just use a dolly to bring the big box out to the front yard, and she'd take all of the stuff out of it and place it on the grass. Well, i was searching through the box one night, as i always had a purse fetish. I found some black leather pumps inside the box. I examined them, and felt the insoles, and they felt soft. I brought them in the house. I started jackin off with them. They really felt nice on my cock n balls! I really came in them several times that night. I kept them in my room for a while. They had other pumps in their closet, but those black ones were incredibly the best ones. A few years later, while living in another house, i checked the closet of my other sister, and she had some white PVC pumps that i really thought looked sexy! I brought them in my room and jacked off in them. They were awesome! Both sisters had some awesome pumps (and booties!) that i couldn't keep my hands off of. I came in plenty of them that they owned. Of course, when the insole of the pump is very soft, it's going to feel really nice, and it did!!! Since that time, i would go to thrift stores and buy used pumps, take them home, and get sexual with them! Sometimes, i would wear them on my feet as i was jacking off with them!
Last edited by
ihumpherpurse
on Sat Feb 07, 2015 3:30 am, edited 1 time in total.
---
Posts: 517
Joined: Tue Feb 03, 2009 4:34 pm
About 13 or 14. Used a "borrowed" sexy 4" black leather stiletto shoe as this was so common in the 80's. Put a porn on, fucked the shoe slowly until a huge bam deep inside the shoe. One of the best feelings ever.
---
Posts: 1956
Joined: Tue Dec 30, 2008 3:18 am
also something around that ...


...since always facinated
---
Posts: 3
Joined: Wed Nov 19, 2014 5:00 am
Around 16 to 17.
I watched a news that someone was caught cumming on women's shoes and i thought "omg i have never thought of that" .
Then i started cumming on neighbours' shoes. Stopped recently as i have a gf and free guilty if i use my dick to touch other women/ shoes of other women.
---
Posts: 59
Joined: Sun Dec 11, 2011 1:36 am
I was around 13, it all started with the shoes of my friends mother. I was alone in her closet and she almost caught me in the act...
---
Posts: 534
Joined: Mon Feb 06, 2006 11:30 am
I was probably between 14 to 16 years old. The chunky platform oxfords were popular during high school at that time. I was able to examine a pair similar to these: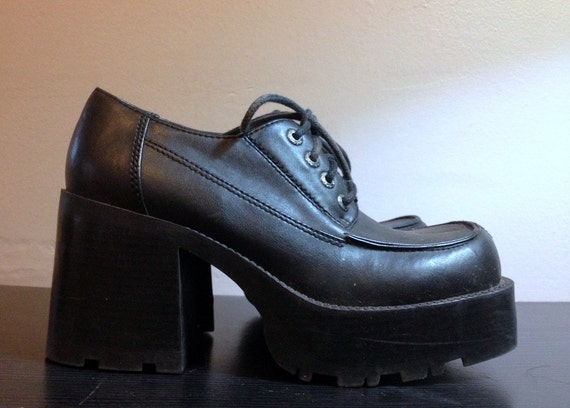 They belonged to a friend and while at her house I took them to the bathroom and licked them clean for her before leaving my load in them.
---
Posts: 973
Joined: Tue Jan 03, 2012 5:03 am
Location: uk
As soon as I was able to cum I was at it....

Sent from my iPhone using Forum Runner
---
Posts: 108
Joined: Sun Jul 31, 2011 10:11 pm
I was 12 years old. I was taken out of middle school and homeschooled (my choice) by a woman from my church. She has a daughter that's just five days younger than me. We didn't really "hit it off". Most of our "relationship" involved exploring our nether regions and just being horny preteens in general. Well, one day I saw one of her shoes on the floor and picked it up, sniffing it out of curiosity. I dunno if it was pheromones or what but I got an instant hard-on. They were slip ons (Rocket Dog?), and had been worn barefoot for at least a year. When the coast was clear I snatched them up, took them home, and, after fucking them several times, went to bed that night with one on my dick and the other on my face.

My mom found them in an empty drawer, confronted me, and had me throw them out. By that time the right shoe had been fucked so many times that it was completely stiff, and was tearing at the seams.
---
Posts: 310
Joined: Mon Apr 05, 2010 9:51 pm
feverpitch wrote: My mom found them in an empty drawer, confronted me, and had me throw them out. .
For a second, I thought it read that she thrown you out. close one mate.
---
Posts: 99
Joined: Sat Sep 17, 2011 10:31 pm
I was 12
In the apartment next to mine my 18yo cousin used to leave homemto go to wotk after lunch
When having lunch together, as soon as she was leaving I used to take her slippers, just taken off, still warm and sweaty, anc ask my aunt to go to bathroom, where there was the closet
Pumps, sandals andnheels at my disposal
I had a rule: for every pair of shoes lick and smell the right and cum in the left
How many shoes I cummed...
---